Client
Education Scotland
Services
Systems integration
UX consultancy
UX research
UX testing
Website design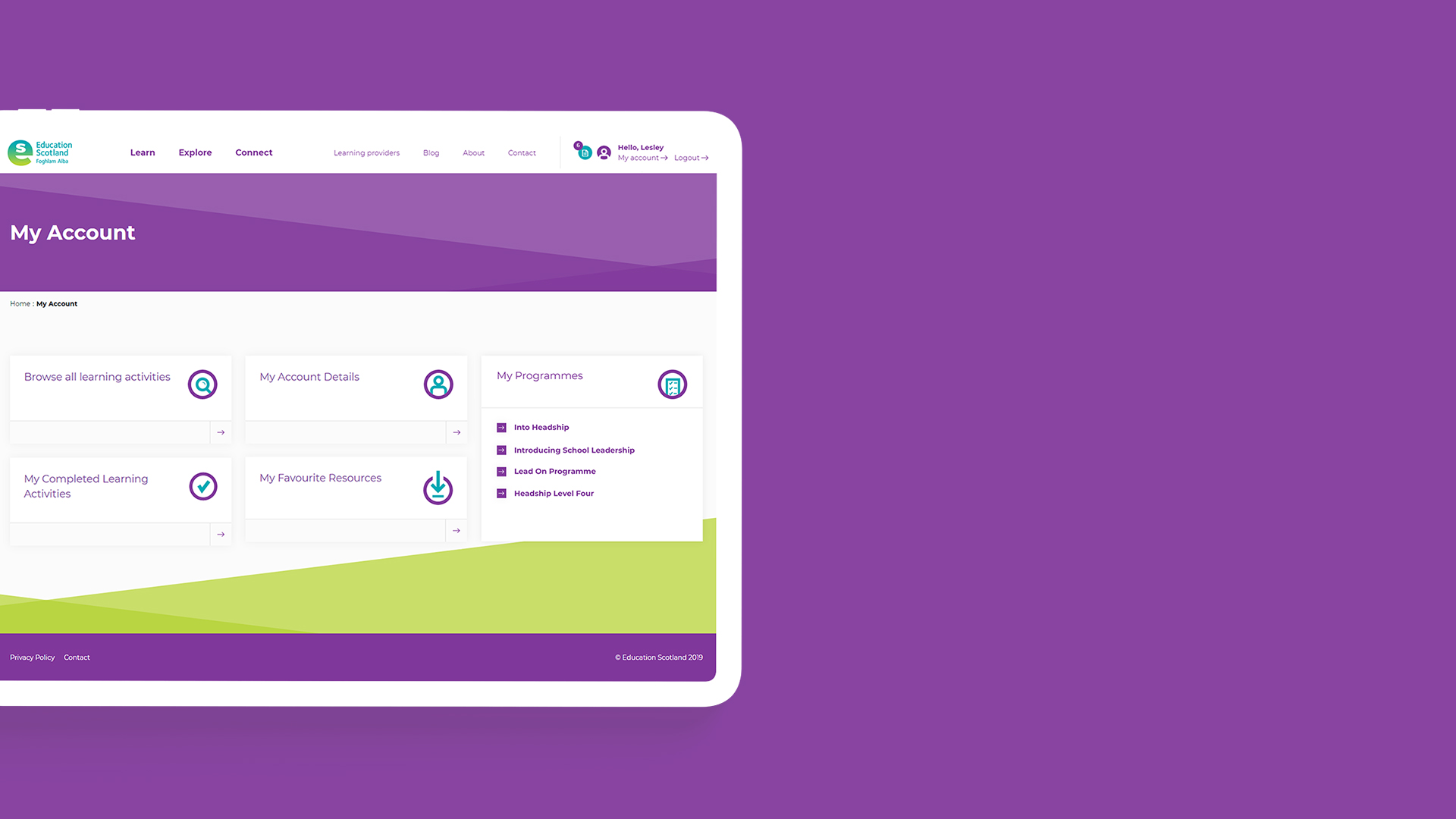 Helping to support professional learning and leadership for educators in Scotland
The Education Scotland Professional Learning and Leadership Directorate aims to support teachers in making a difference to the outcomes for children and young people through high quality development and leadership programmes and services.
Their existing online platform was deemed to be failing to achieve its objectives following user research. Professional Learning Activities (PLAs), the core part of the system, were hard to find, hard to work through and the design and user interface was found to be inhibitive to supporting learning and development.
Our brief was to transform the platform into an eLearning experience, to make the system more engaging and interactive and to allow teachers to save progress and work through PLAs on their terms and in their own time.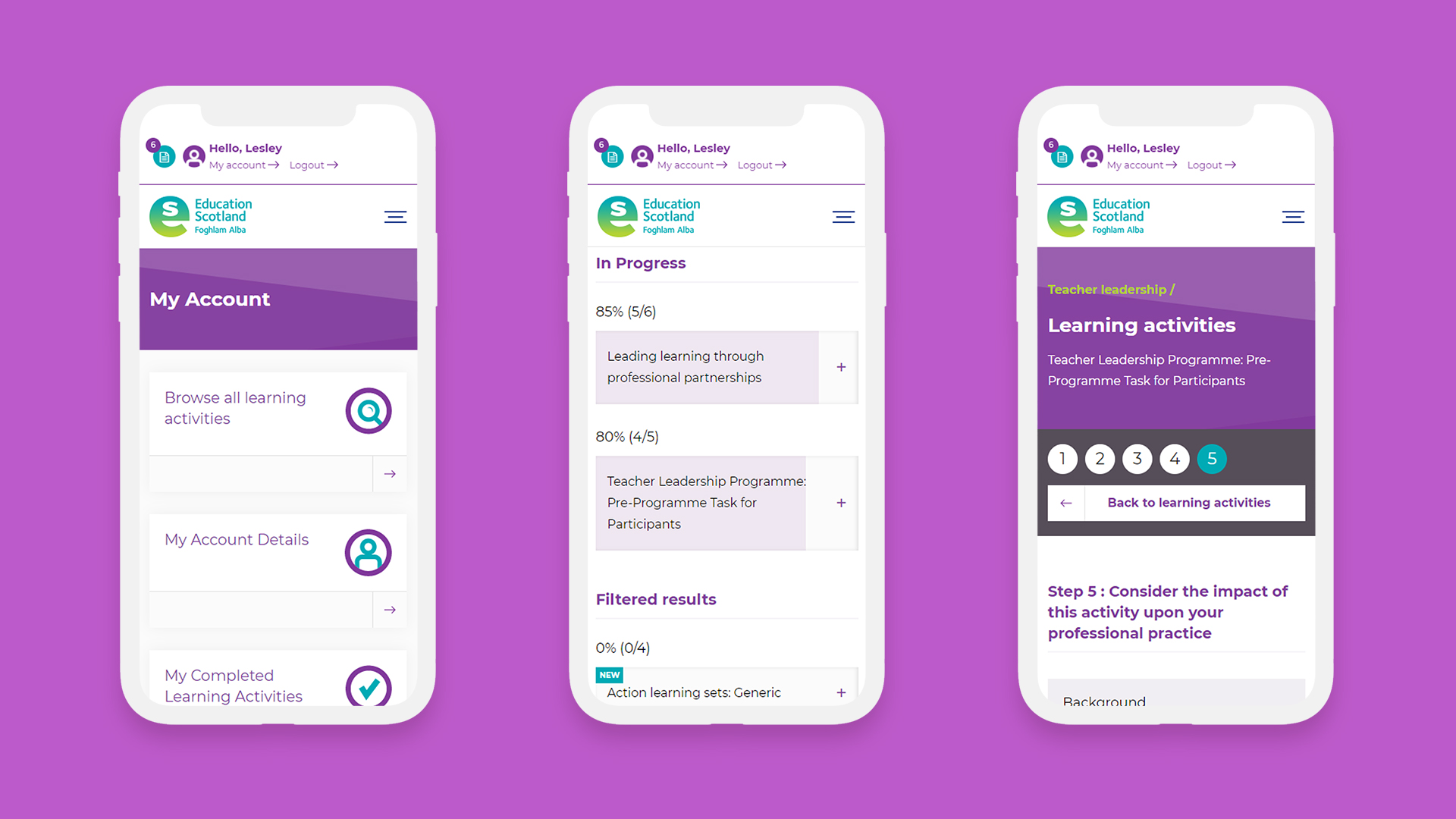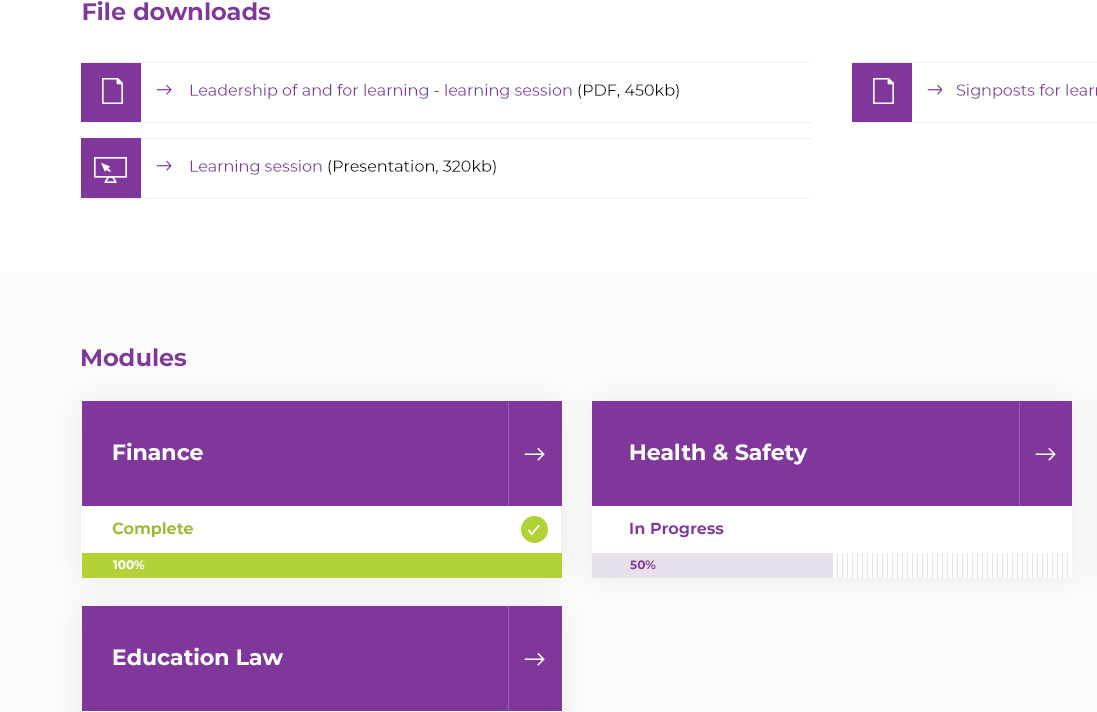 Collaboration and Integration
Through the planning and scoping phase, we developed the brief and the solution by working closely with an advisory group of teachers, developing wireframe and visual prototypes prototypes following our initial collaborative ideas and card sorting sessions.
This consultative approach led to a system designed for end users (teachers) that resulted in bespoke features and functionality; all of which with the objective of making the system as useful and as intuitive as possible for teachers on their progressive journey. New features included the ability to save elements of interest for later, export progress in a format compatible with importing into external other teacher platforms and the ability to login using a single sign on utilising their existing Glow accounts (Scotland's national digital environment for learning) for fast and easy on-boarding.
Expanded learning resources
The project was a huge success following the May 2017 launch, and we further enhanced the platform in September 2019 when we merged the former Scottish College for Educational Leadership (SCEL) website with the platform to provide additional resources, research and news in one dedicated learning and leadership hub.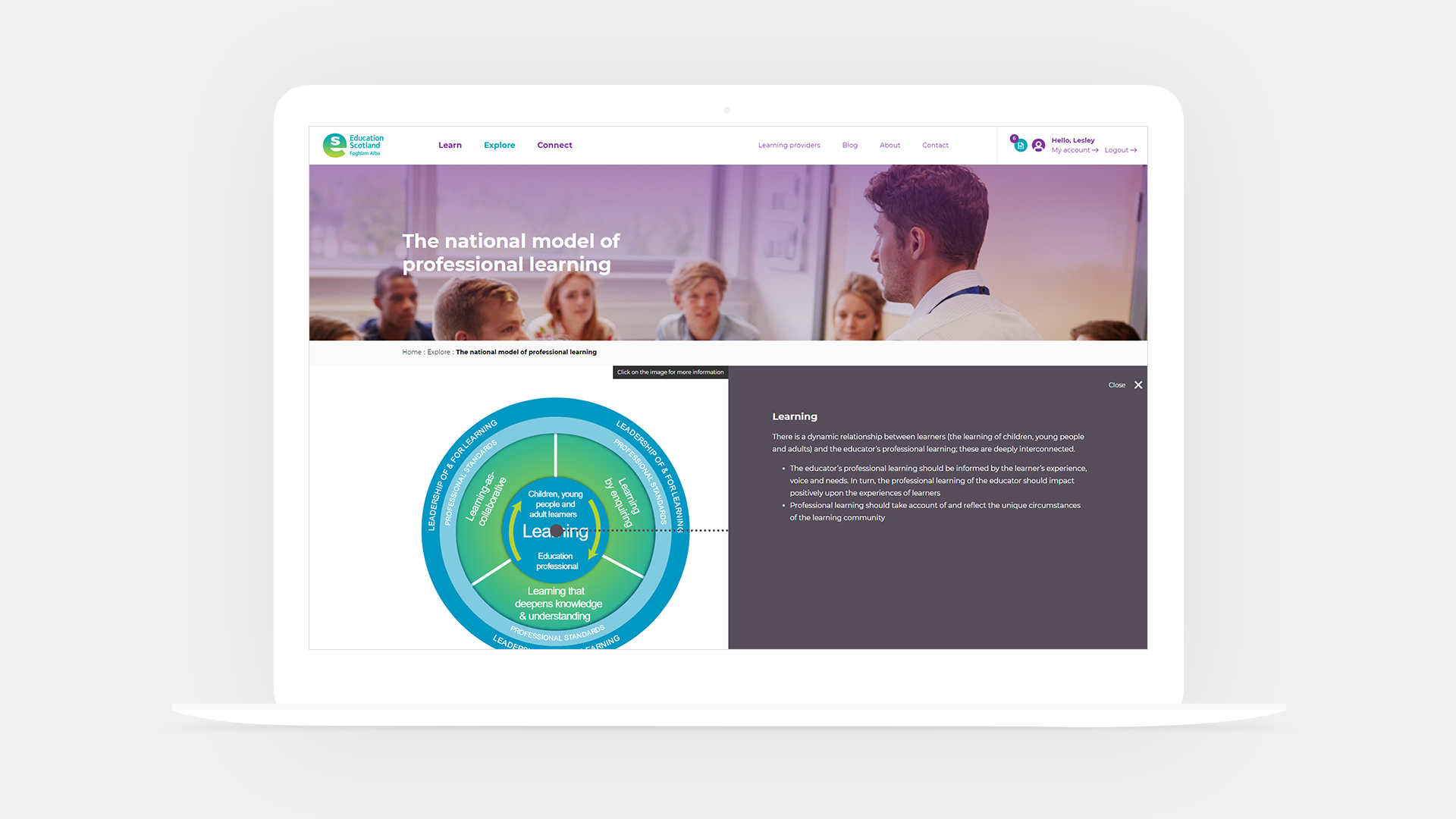 When the original platform went live there was a huge uplift in usage with no marketing, with an increase of 175% in site activity. Perhaps the most significant statistic and indication of the transformation of the system was the reduction in bounce rates given many returning users had to learn and engage with a new user interface, having previously had a bad experience. That, along with a 33% increase in engagement with PLAs, was a significant contributor in making a difference to improving learning leadership. Moreover, the qualitative feedback from teachers across Scotland confirmed that the Framework was a high-quality eLearning professional learning resource.
The project was nominated in the education sector at The Herald Scottish Digital Business Awards 2017.

"I was delighted with the work that Three Part Story did for us to revitalise and improve the Framework for Educational Leadership. The team at Innovation Digital worked built strong relationships with our team, ensuring that the development was a two-way process and their response to feedback and requests was excellent. Feedback from teachers in Scotland confirms that the outcome of our relationship with Three Part Story is a high quality, innovative and interactive professional learning resource to support the development of leadership in Scotland."

Gillian Hamilton, Strategic Director, Education Scotland