Client
James Donaldson and Sons
Services
Brand strategy and development
Copywriting
Design & Print
Photography
Advertising
Digital Marketing
Multiple websites
We work with the James Donaldson and Sons group ofbusinesses, developing their brands, marketing strategies and websites.
JDS is a family owned group of businesses specialising in timber and associated products.
The 150 year old business has grown significantly, both organically and through acquisition and, as a result, their group brand had become fragmented and inconsistent, as had many of the subsidiary JDS brands.
We successfully pitched to become their creative and digital agency in 2017 with a body of work to develop their brands, a suite of websites and eventually marketing and advertising campaigns for their brands and products.
We started with the fundamentals; immersing ourselves in the group brand and working in partnership to understand and develop their purpose and values.
The strongest brands start within. If everyone in an organisation understands why the business exists and believes in its purpose and values, then they will live and breathe the brand everyday and become its greatest ambassadors.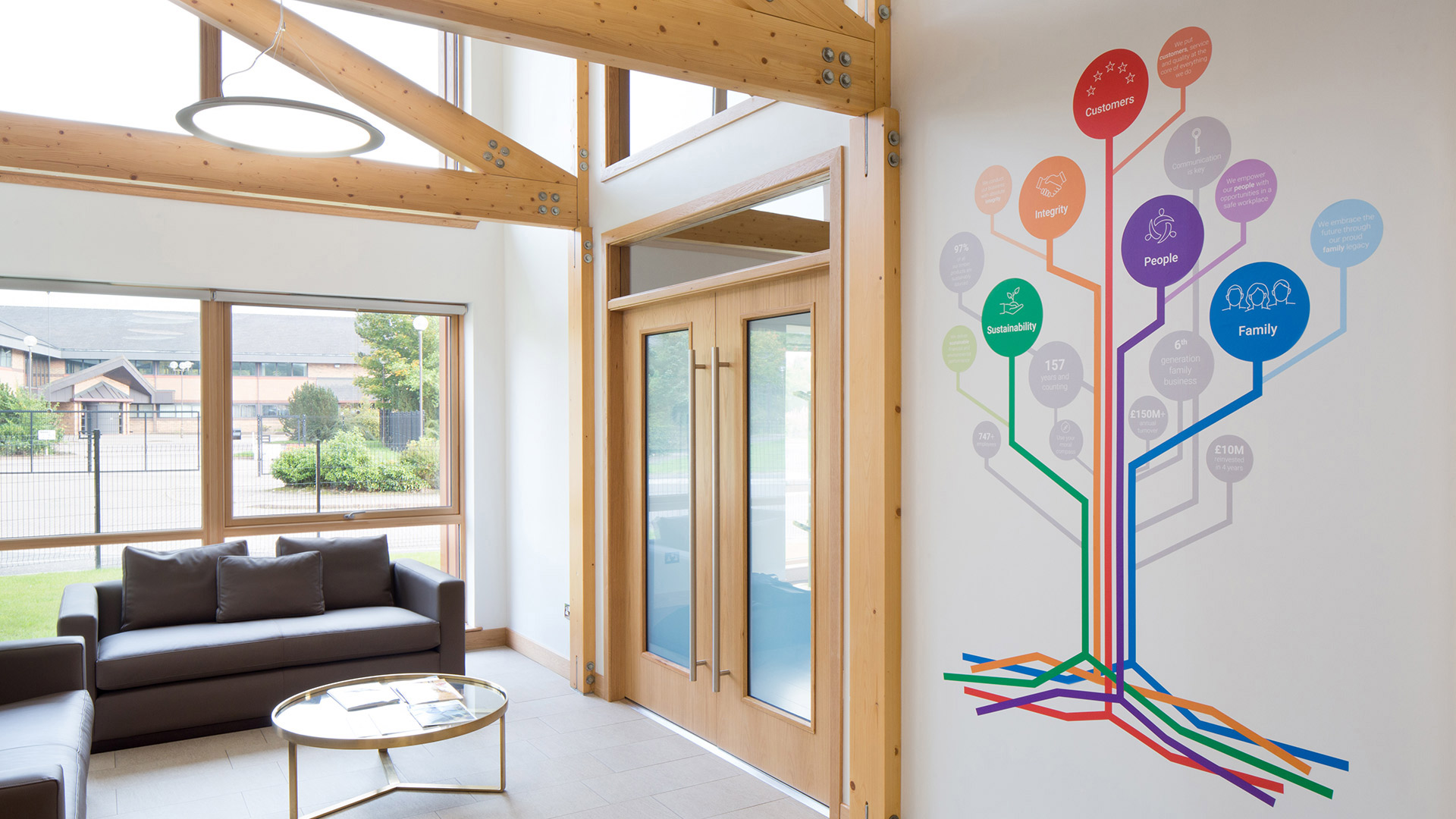 Solid foundations
We consulted with with the owners, board, management team and the wider business to give everyone a voice and get under the skin of the 150 year old family owned business.
This consultancy and the building blocks of the new internal brand and communications strategy allowed us to develop creative and messaging and the new group website planning – the first of many websites we would develop with the group.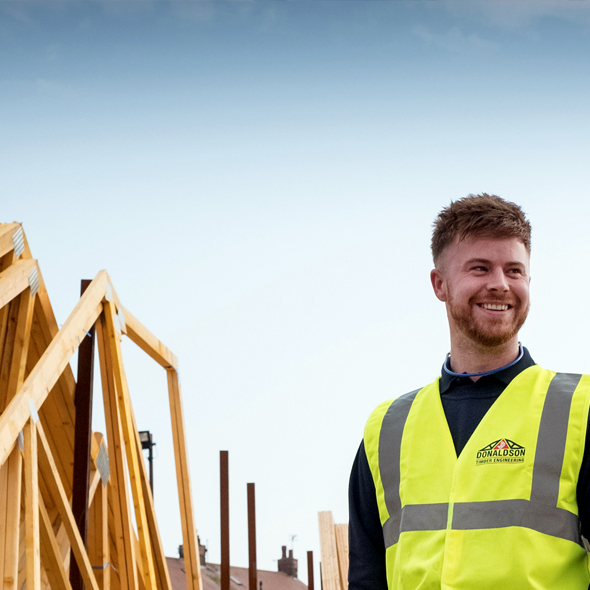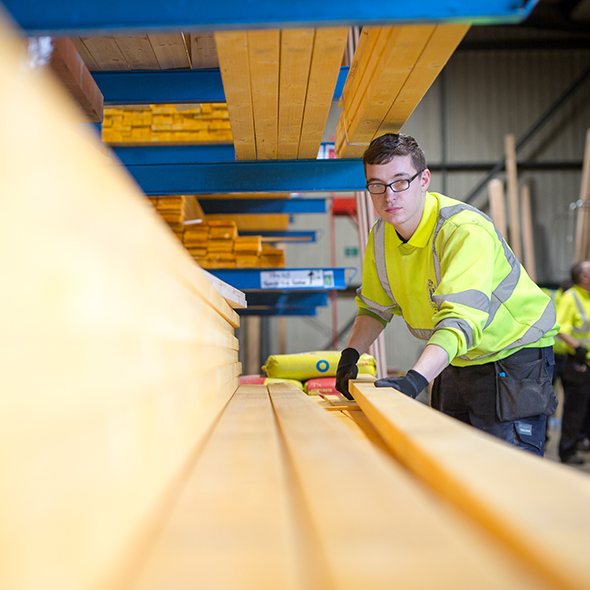 Pictures are worth a thousand words
We had a suite of websites and marketing materials to develop across the group of businesses and we knew the importance of the "JDS family" from our brand foundations consultancy, so we started with fresh new photography for all subsidiaries and for the group website, capturing images across the group of businesses early in the process.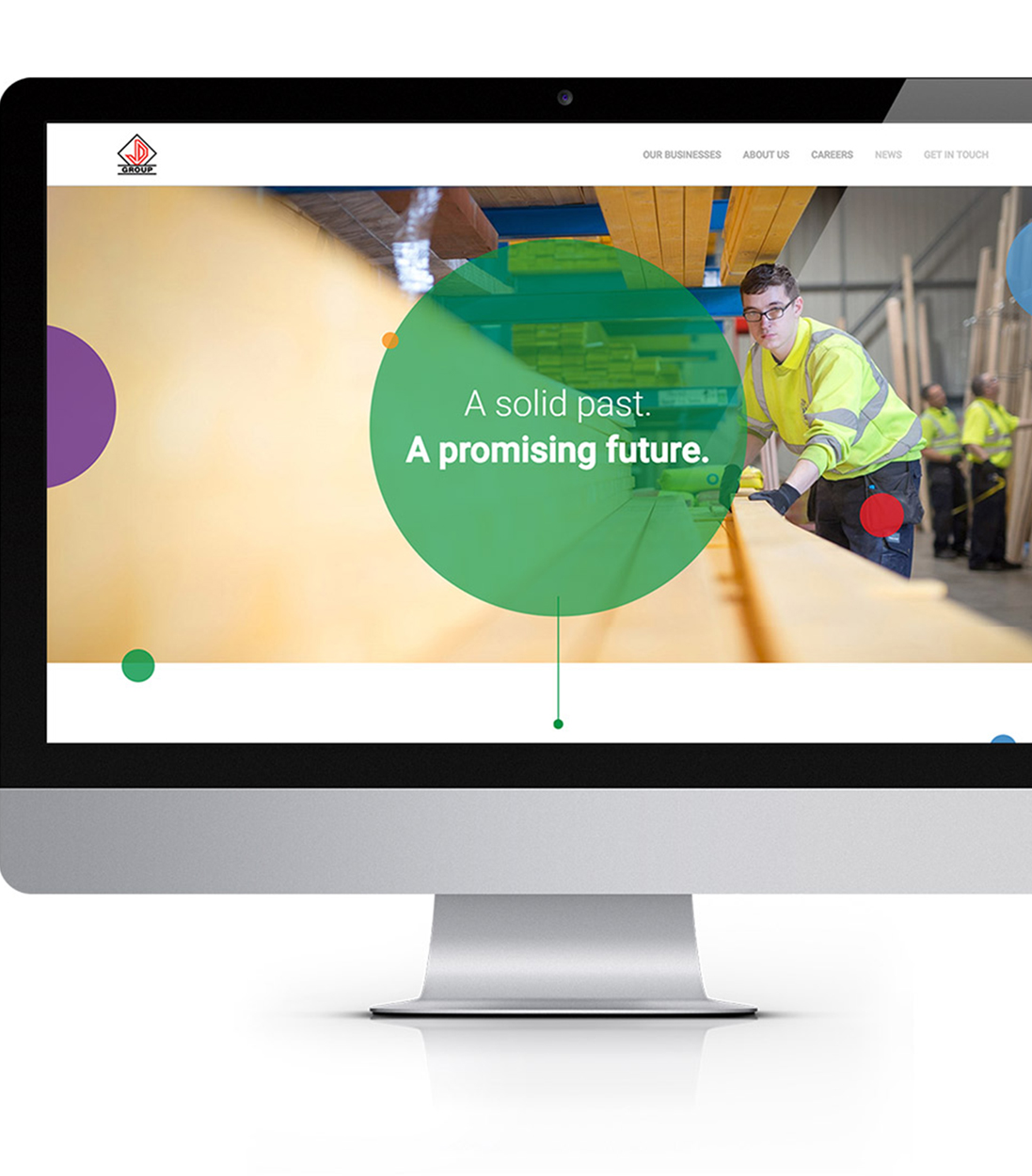 Crafting the website to fit the group brand
We created brand and tone of voice guidelines in conjunction with planning the group website and content. This allowed us to craft a fitting user experience with content and copy befitting of the group brand.
Have a look at the group website we created together. It's already three years old but it's still one of our favs jamesdonaldsongroup.co.uk
All under one (interactive) roof
The business has grown over the years through innovation and acquisition, investing in key businesses to compliment the group's capabilities covering timber engineering, saw-milling and distribution, merchanting, roofing and cladding distribution and laminate manufacturing.
To explain the businesses in simple terms we used the concept as part of an interactive component of the website to clearly indicate what products and services were offered by each business.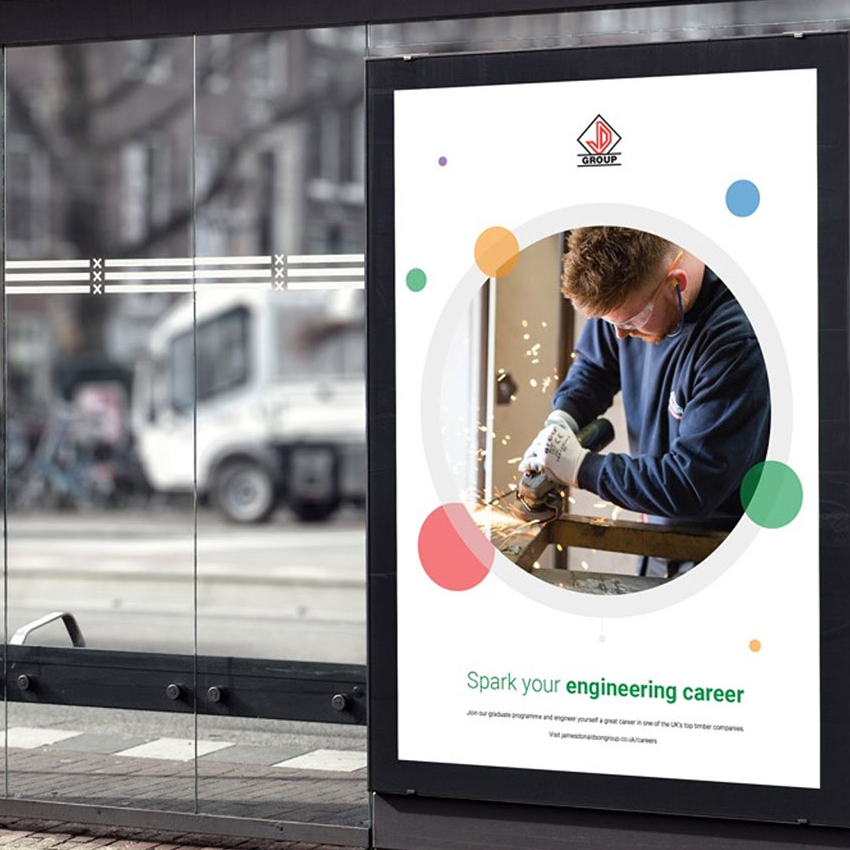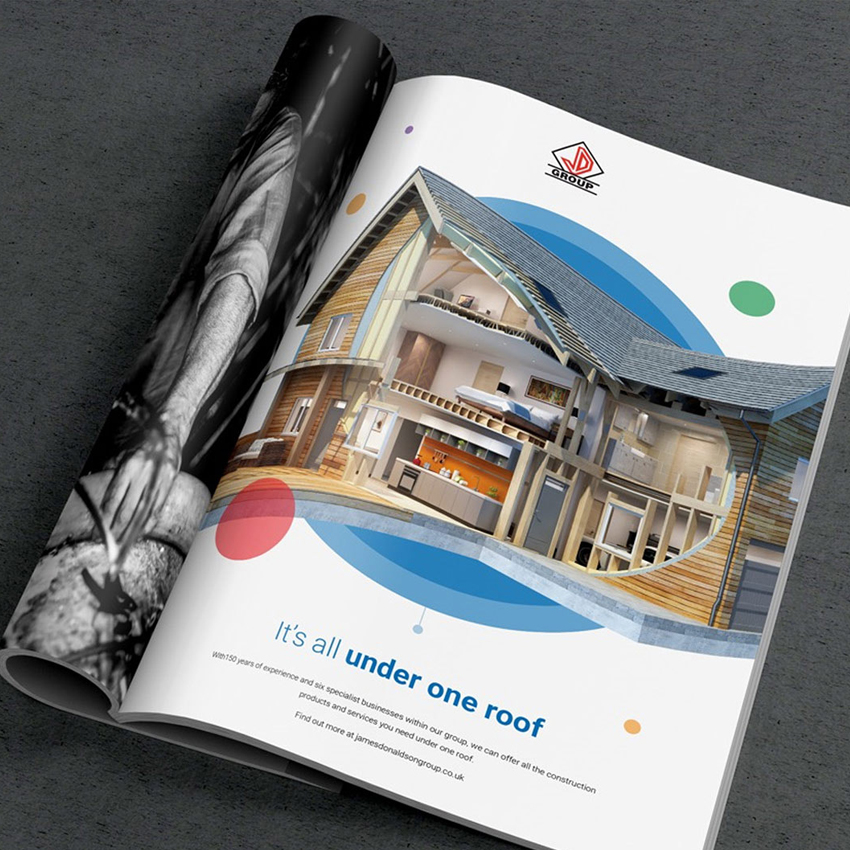 Creative Advertising
As part of brand development, and with the challenges of attracting a young workforce into the timber industry when everyone wants to work for Google these days, we worked on creative advertising concepts for recruitment and other trade campaigns to promote the group.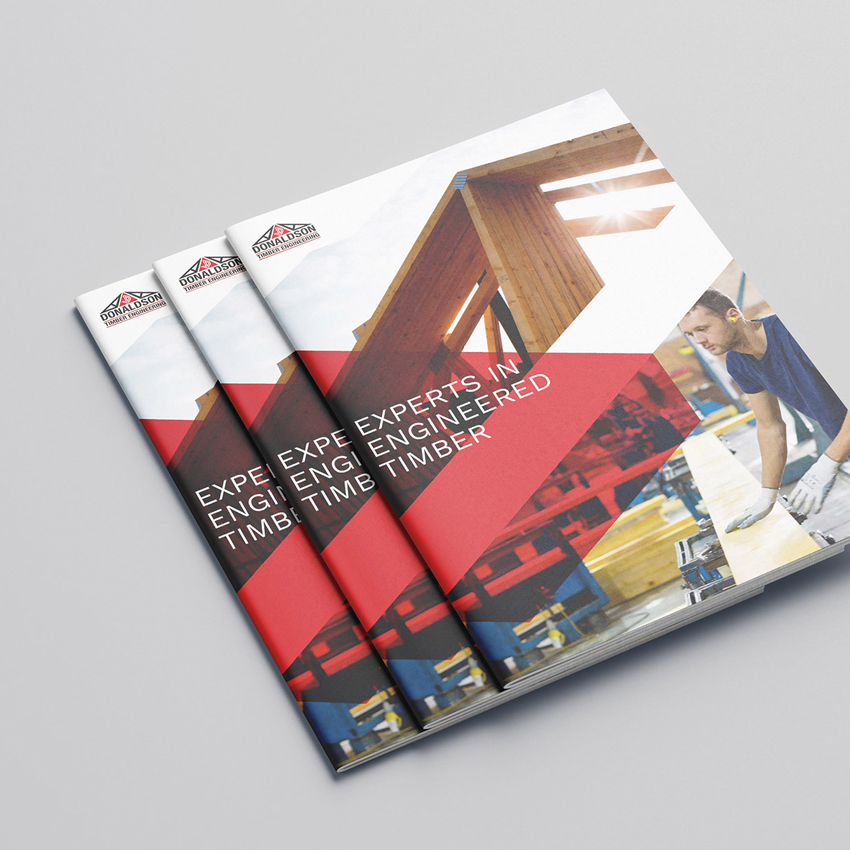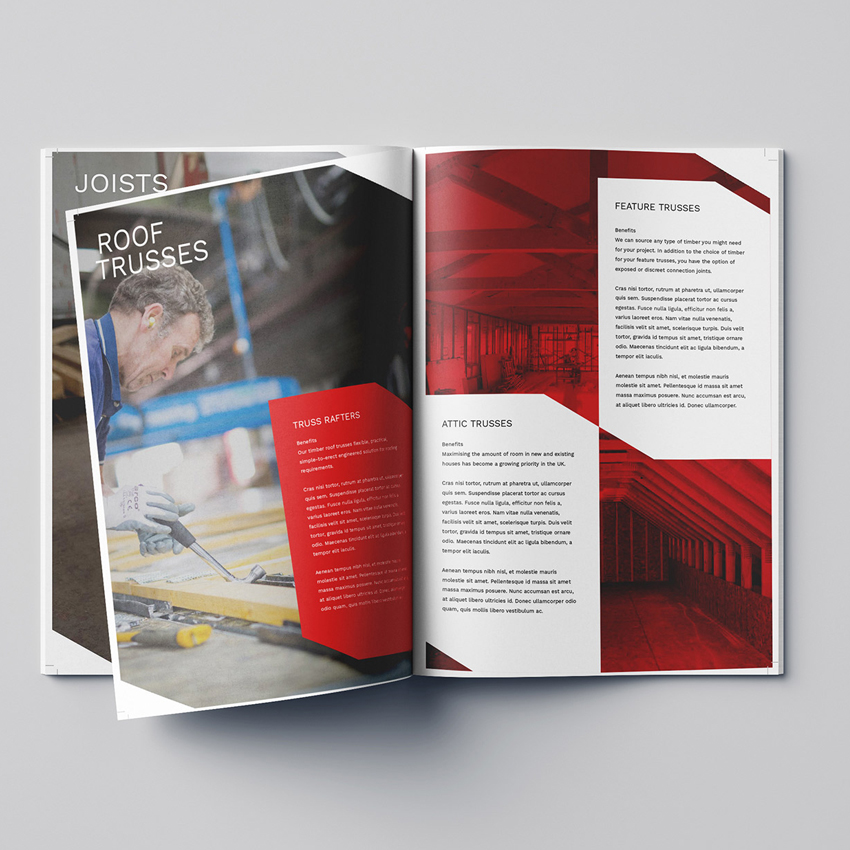 Working with other JDS businesses
Following our group brand and website work, we began working on a suite of websites, brochures, marketing campaigns and more for the other businesses within the group.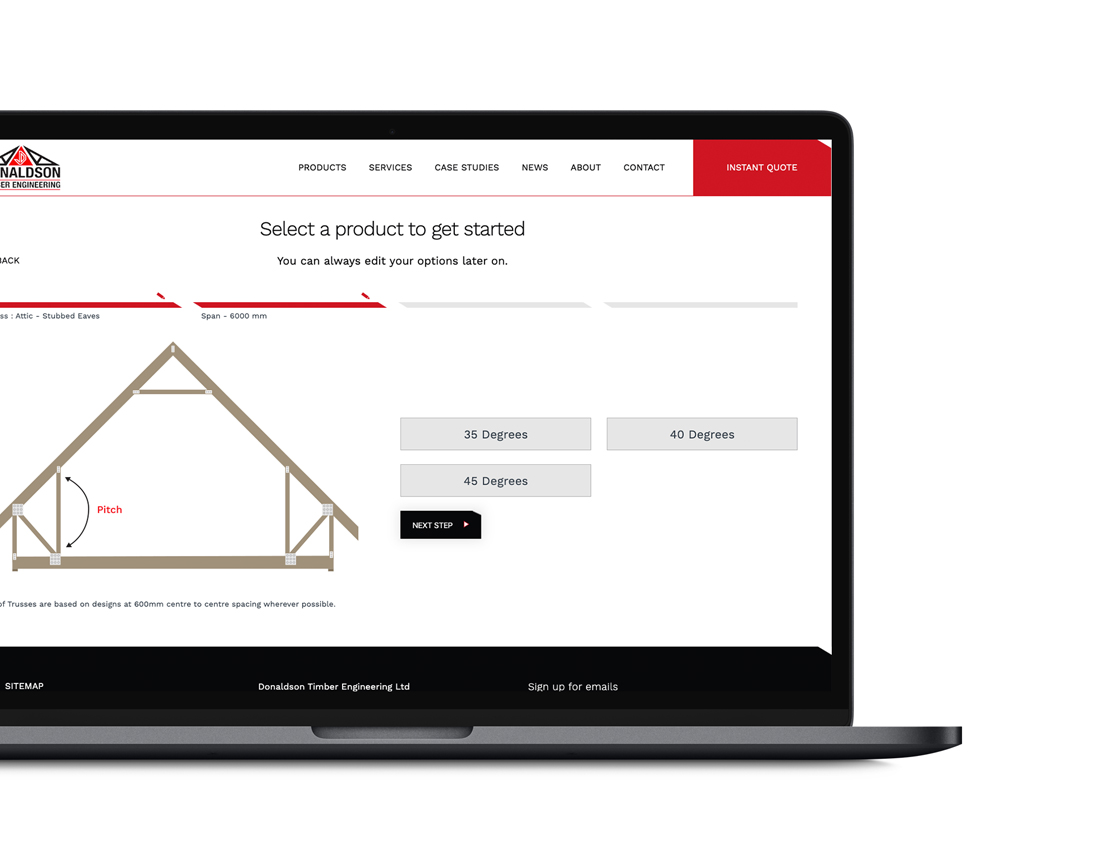 Digital transformation
Donaldson Timber Engineering Ltd is the UK's largest and longest established manufacturer of structural timber components. We designed a new website for DTE as part of our work with JDS and as part of that we created a bespoke roof configurator to automate the creation of quotes for joists and roof trusses. This saves the sales team valuable time and allows quotes to be created by customers 24/7 on any device, in any orientation, anywhere in the world.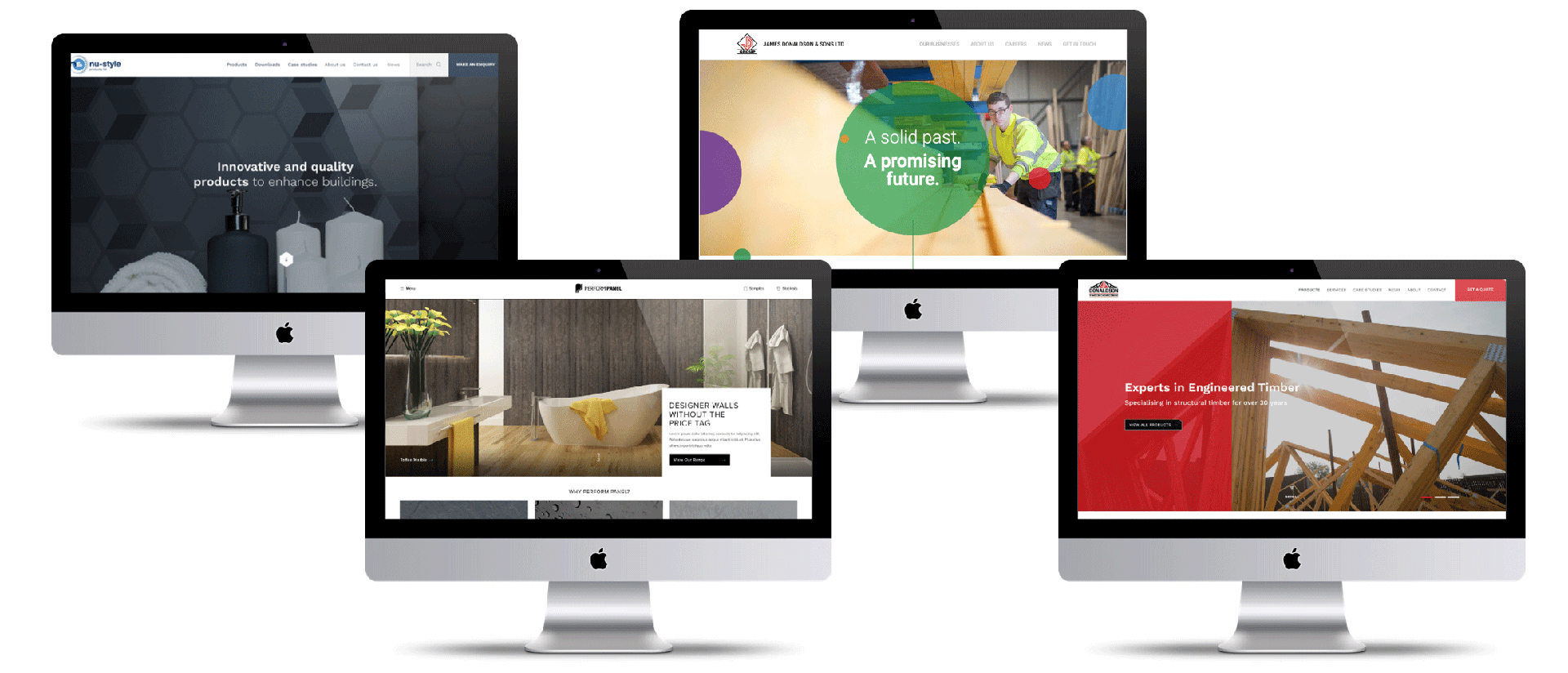 Other work for the group included websites for NuStyle – who make high quality washrooms, furniture and roofing products for building and construction specialists, and Perform Panel – a NuStyle brand who manufacture a stylish range of bathroom and shower room panels.
Creative advertising campaigns
JDS asked us to devise creative advertising campaigns for one of their product brands – Perform Panel. Our job was to raise awareness of their brand and wall panel products; a stylish alternative to wall tiles. One brief was designed to target an English market with little awareness of wall panels. The others had to stand out from a crowded and competitive Scottish market with separate advertising campaigns targeting both consumers and tradespeople.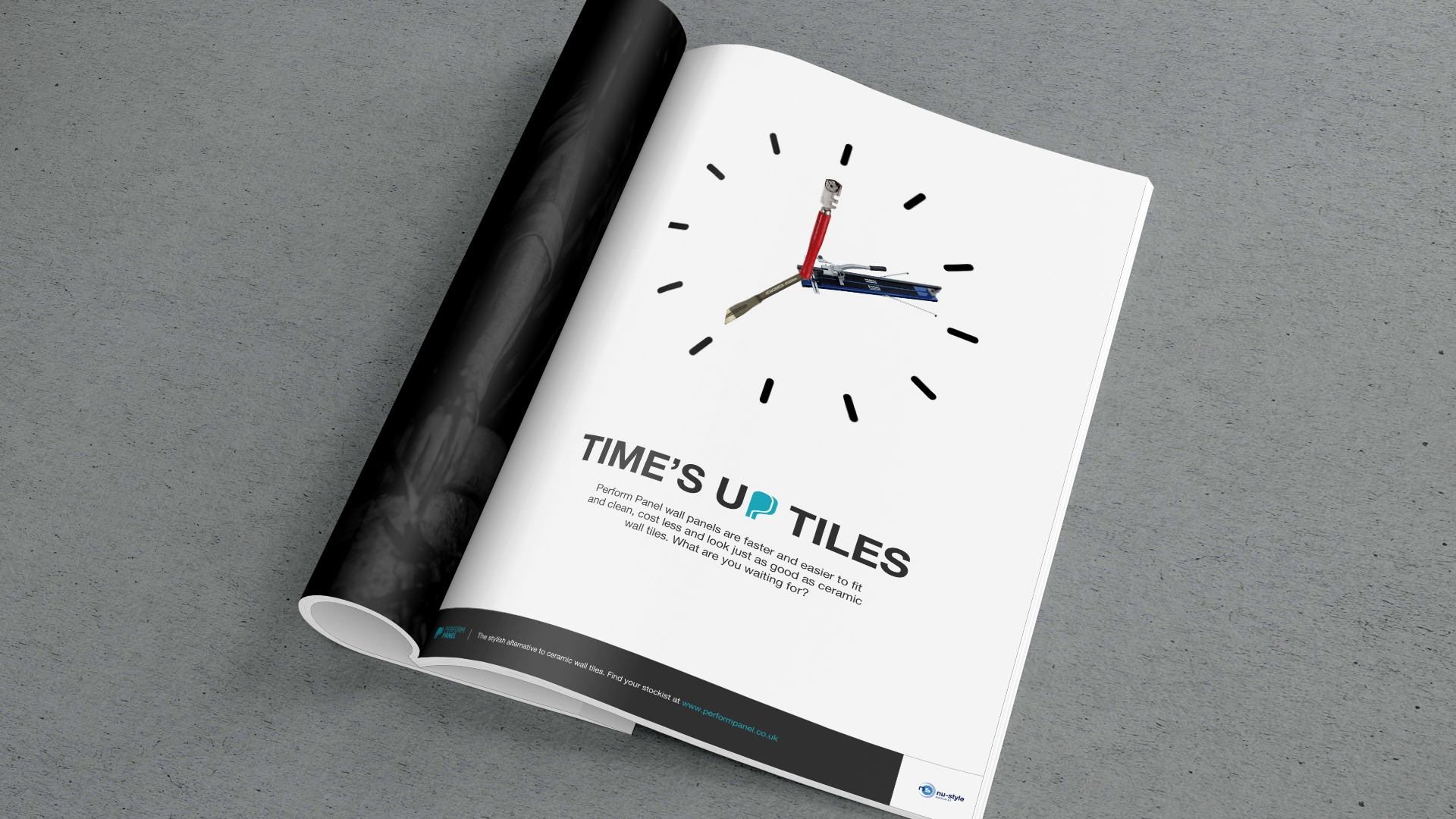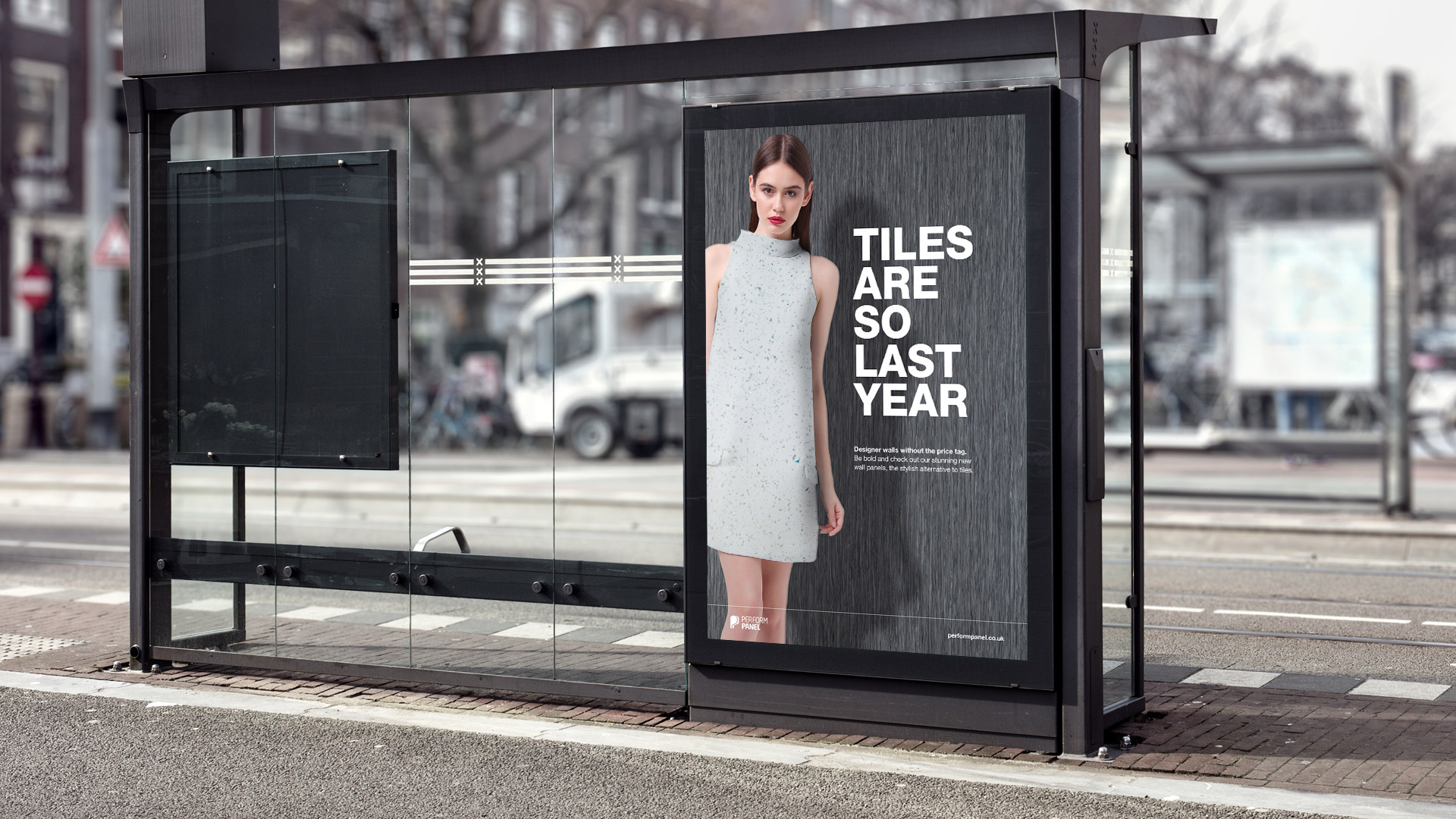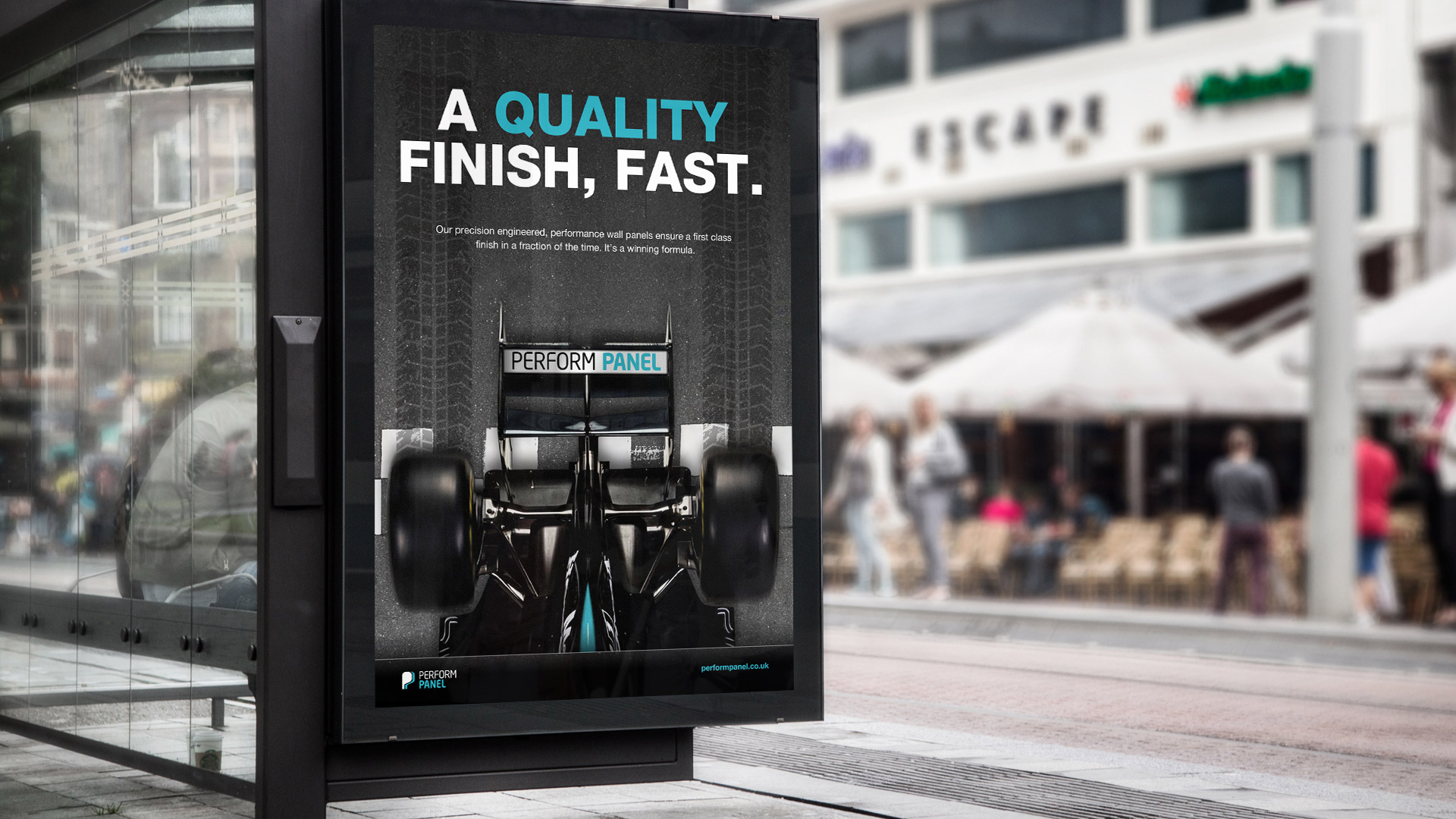 Time's up tiles!
To tackle the English market we focussed on the concept of wall tiles having had their time. In this example we used a clock face with the hands of the clock represented by what would be unnecessary, expensive and heavy tools required for tile cutting of more traditional wall tiles.
Tiles are so last year
Market research proved females of the home as being the ultimate decision makers when choosing a new bathroom style. Our consumer campaign used fashion as a vehicle for our creative communications with range styles superimposed into our ad creative.
A quality finish, fast.
Our market research showed that tradespeople cared first and foremost about quality, but if they could finish a job faster without sacrificing on quality – that was a winning formula. Formula one racing became the perfect theme for Perform Panel and our trade campaign as it is the epitome of performance and the perfect example when finishing fast is a good thing!

"I've been working with Three Part Story for over three years, developing digital and marketing strategies for the James Donaldson & Sons Group including redesigning a suite of websites and marketing campaigns. I am very happy with their professionalism and meticulous approach to managing projects and finding solutions to challenges that arise. They are a valuable and reliable partner to our business."

Jean Paul Malum, Group Marketing Director, James Donaldson and Sons